Photo Annotation Quick Start
Quick Start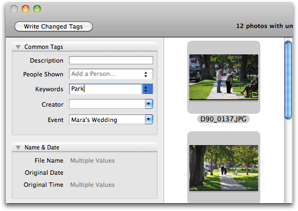 View all available tags by clicking on the tool icon (Customize metadata tag viewer).
Choose tags appropriate for your workflow by dragging them onto the Metadata Tag Viewer.
Rename & reorder tags as desired; save the template if you wish.
Annotate multiple or single photo selections by entering values into the text boxes.
Writes the tags to the photos by clicking the Write Changed Tags button.
Related Topics
Copyright © 2004-2014 Early Innovations, LLC