ExifTool Key Viewer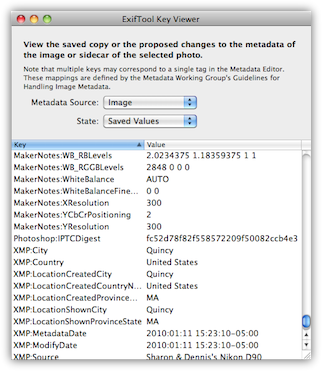 Reading and writing of metadata in PhotoLinker is done using Phil Harvey's open source ExifTool [queensu.ca]. ExifTool is a command-line application and perl library that supports many different types of metadata including EXIF, IPTC and XMP. The metadata key-value pairs returned by ExifTool are mapped in many-to-one relationships to tags found in PhotoLinker's metadata editor using the rules established by the Metadata Working Group.
PhotoLinker provides an ExifTool Key Viewer which shows all raw key-value pairs read from the photo and sidecar files as well as the proposed changes to be written back to the files.
To show the ExifTool Key Viewer:
Select Photos > Show ExifTool Key Viewer
Set the Metadata Source popup to either Image, Sidecar or iPhoto.
Set the State popup to 'Saved Values' to examine the current saved state of the image or 'Proposed Changes' to view the keys to be set.
Related Topics
Copyright © 2004-2014 Early Innovations, LLC