Geotagging: Image Direction & Location Shown
In addition to setting the location that the photo was created, you can also set both the image direction and location shown. Simply select a photo, right-click at a point on the map, and choose Set Image Direction or Set Location Shown.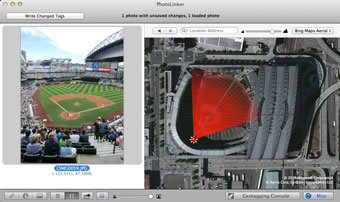 The example to the right shows a photo taken in the stands at a baseball stadium.
The location created is indicated with the red shiny ball in the stands.
The image direction is indicated both by the red compass finger and by the red translucent pie wedge. The pie wedge is set by the camera's field of view, if available.
The location shown is indicated by the light grey line that terminates in the stands at the other side of the stadium.
There are several important notes.
The location created must be set before image direction or location shown can be set.
Setting the location shown always sets the image direction to the center of the field of view (technically, the image direction is set to the initial tangent of the geodesic defined by the location created and location shown).
Setting the image direction after the location shown has been set, does not alter the location shown. This is important because the object of focus (the location shown) may not always be centered in the image.
The pie wedge representing the image direction and field of view only shows when the image is selected. The small compass finger always shows.
The length of the pie wedge is determined by the location shown or, if there is no location shown set, the pie wedge scales automatically while zooming.
The location shown is automatically reverse geocoded by default.
Copyright © 2004-2014 Early Innovations, LLC