Copying one date & time tag to another
PhotoLinker lets you copy an existing date and time tag to another. For example, in cases where the digitization date was not automatically set by the camera, it might be useful to copy the original date to the digitization date. As another example, it is sometimes favorable to have the file creation date reflect the original date and time to facilitate easy photo sorting within the Finder.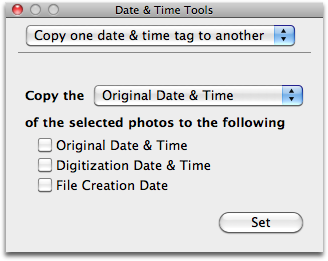 To copy one date & time tag to another:
Select the photos you which modify.
Choose Photos > Show Date & Time Tag Copier
Select the tag you want to copy from, and the tags you want to copy to.
Click Set.
As always, you'll need to Write Changed Tags before the date is written back to the photo's metadata.
Related Topics
Copyright © 2004-2014 Early Innovations, LLC