Setting the time on your photos
Scanned slides, negatives or prints will need to manually have the original date and time entered to reflect the time the original photograph was taken.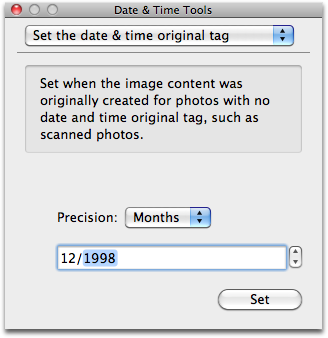 To set the date stamp on a photo:
Select the photo you wish to to set.
Choose Photos > Show Date & Time Setter.
Choose the precision of accuracy to which you know the date. For example, if you know the photo was taken in December 1998, choose months.
Enter the date and click Set.
As always, you'll need to Write Changed Tags before the date is written back to the photo's metadata.
Note that although the PhotoLinker writes the date and time tags according to the proper specifications, many popular programs do not correctly interpret dates of different precisions. For the greatest compatibility you may want to always enter dates with seconds level precision.
Related Topics
Copyright © 2004-2014 Early Innovations, LLC