Geotagging: Manual Mode
Using PhotoLinker's manual geotagging mode, you can geotag your photos without a GPS simply by entering the address or location of where you took the photo. Additionally, manual mode lets you geotag photos to existing waypoints you may have created with your GPS.
The preferred mode for manual geotagging is to simply drag a photo from the image browser, and drop it onto the map. In addition, you can also right-click on the map and select 'Geotag to Point'. Right-clicking also allows you to set the image direction and the location shown as soon, once the image has been geotagged.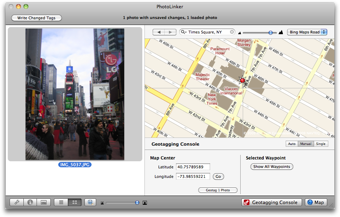 To use manual mode in the Geotagging Console,
Select one or more photos and open the Geotagging Console
Click on the Manual Mode button.
Once Manual Mode is selected in the geotagging console, light gray crosshairs will be placed over the center of the map. You can click the Geotag Photo button at any time and the selected photos will be geotagged to the location at the map crosshairs.
With manual mode there are three different ways to locate the position of a photo.
Use the location search box to search for an address or location.
Enter the latitude and longitude directly into the input boxes and hit Go.
Click Show All Waypoints and choose a waypoint in the Track & Waypoint Browser.
Related Topics
Copyright © 2004-2014 Early Innovations, LLC